As macroeconomic conditions tighten and the market continues to search for direction, I continue to emphasize that prudent stock selection is the best way to navigate the current environment. I have a favorable view of market indices in a 9-12 month window, but I think investors can capitalize right now by overweighting banged-up tech stocks. The question is which.
invoice.com (NYSE: INVOICE) has long been a stock of high-performance, very expensive software. The company offers payment automation solutions, primarily aimed at SME clients that do not have complete financial suites or specialized financial departments. Like its SaaS peers, Bill.com shares experienced a massive YTD correction of the order of 55%, helping to partially resolve a persistent overvaluation issue.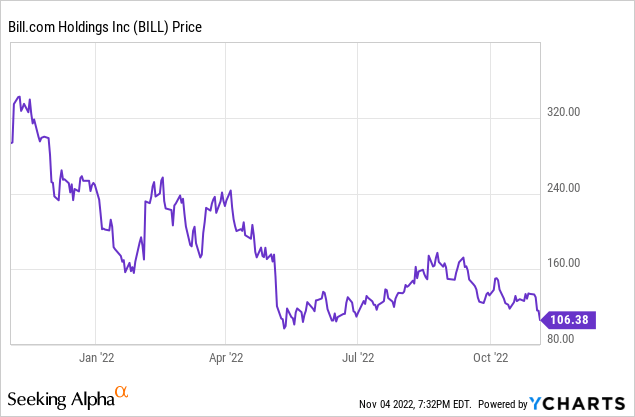 Due to the massive drop in stocks despite relatively healthy fundamentals thus far, I am changing my stance on Bill.com from bearish to neutral. While I wouldn't rush to buy this stock just yet, I think it's worth adding this stock to your watch list: and then entering at the appropriate price (more on that in a second).
What makes me think is that Bill.com, due to its large exposure to SMB customers, is much more sensitive to the macro environment than other SaaS companies that are predominantly backed by enterprise customers. The company has seen spending trends weaken within its customer base, as CFO John Rettig noted in the recent fiscal first-quarter earnings call:
During the first quarter, bill-independent POS per customer, excluding FI channel, decreased 3% sequentially. In the fourth quarter, we saw midsize companies start to moderate their spending, and that trend is now visible in our micro and SME clients as well."
And not only will customers spend less, but weaker small businesses may also wither and go out of business if a prolonged recession strikes. Transaction-based revenue accounts for just over two-thirds of Bill.com's revenue, which means its revenue base will be more variable during an economic downturn than other software companies: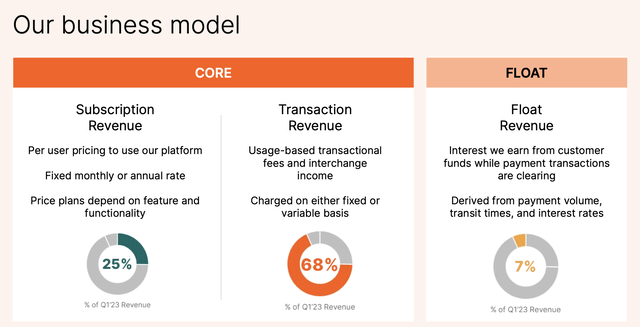 At the same time, though, I don't think this is a purely doomsday scenario for Bill.com. There are a couple of positive factors that we should appreciate in this company, such as:
So far, the growth is maintained. Fueled in part by acquisitions, as well as organic growth from paying customers, Bill.com continues to grow at an enviable rate for a company with an annual revenue scale of approximately $1 billion. Another small contributor here is float revenue, which was 7% of Q1 revenue: as interest rates rise, so will Bill.com's performance.
Wide profitability. Bill.com has posted positive pro forma operating margins, as well as a positive FCF, despite its rapid growth rates.
Huge cash balances. Bill.com has $2.64 billion in cash on its balance sheet (pure net of funds it holds on behalf of clients), giving it a good cushion to withstand even a prolonged downturn.
Bill.com's valuation is far from cheap, but it's also much more reasonable now than in the past. At the current stock price of around $106, Bill.com trades at a market capitalization of $11.23 billion. After paying off the $2.64 billion of cash and $1.78 billion of debt in the company's most recent balance sheet, its bottom line the value of the company is $10.37 billion.
For the current fiscal year, Bill.com has targeted $994 million – $1.01 billion in revenue, representing 55-57% annual growth:

At the midpoint of this estimate, Bill.com trades at 10.4x EV/FY22 revenue. I still think a single digit 9x revenue multiple is a safer entry point for Bill.com; therefore my watch list entry point for Bill.com is $93, which represents a revenue multiple of 9x for FY23 and a drop of ~12% from current levels. Given the marked volatility of the past few weeks, the stock can hit these levels quite suddenly; keep an eye out for that entry point.
Download Q1
Let's now take a closer look at Bill.com's latest fiscal first quarter (September quarter) results, which were released in early November. The earnings summary for the first quarter is shown below: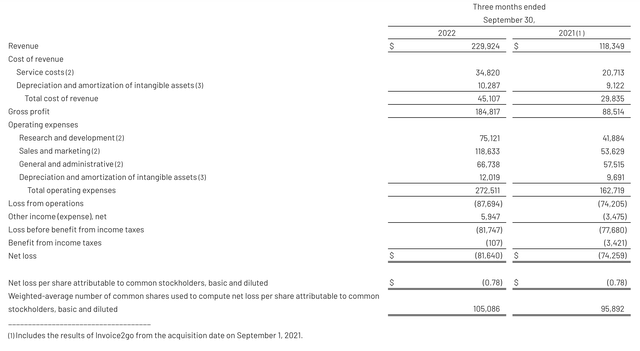 Bill.com's revenue grew 94% year over year to $229.9 million, beating Wall Street expectations of $210.9 million (+78% year over year) by a sixteen point margin. Let's remind ourselves again that not all of Bill.com's growth is organic, as the Invoice2Go acquisition closed in the middle of the first quarter of last year.
Still, many of Bill.com's key metrics held up well. The company grew the number of businesses using the Bill.com platform by 15% annually to 420,000, while payment volumes also increased 34% annually to $65 billion. However, we will need to continue to closely monitor how pay-per-client trends play out as macro conditions tighten.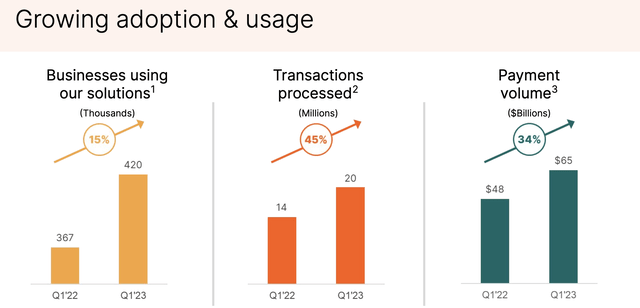 Floating revenue in the quarter was $15.3 million, or 7% of revenue, compared to just $0.8 million in the first quarter of FY22, demonstrating interest rate momentum close to zero last year. The company's net return in the first quarter was 192 bps, and with rates trending much higher after September, I expect the float to continue to be a major driver of year-over-year revenue growth in the second quarter and beyond. there (which will be key to offsetting optical growth slowdown from Bill.com's major acquisitions now fully offsetting starting in Q2).
Bill.com acknowledges the compression environment, but it's also important to recognize that the company is not explicitly modeling a severe downturn for its FY23 guidance. According to CFO Rettig's comments on the first quarter earnings call:
In the short term, the macro environment appears to be increasingly challenging for companies. We anticipate that the trends we've seen with companies moderating their spending will continue through fiscal 2023. And we expect this to translate into lower year-over-year payment volume growth in the coming quarters.

At the same time, in this environment, our platform's value proposition is resonating more than ever with SMBs, and we've seen strong engagement from existing customers, continued high retention, and healthy demand from new customers. Now more than ever, businesses need our solutions to navigate an uncertain environment, and we believe this is an opportune time for us to invest in our business. We believe we can accelerate the positive impact we are having for SMBs globally while monitoring the external environment and proactively balancing growth and non-GAAP profitability.

Now back to our perspective. A couple of notes in advance. First, our outlook does not assume a severe economic downturn."
On the profitability side, we like the fact that Bill.com is generating $9.1 million of positive pro forma operating income in the quarter, representing a 4% pro forma operating margin, versus an operating loss of same magnitude in the first quarter of the previous year. . A two point rise in pro forma gross margins to a whopping 86% was the key driver here, helped by economies of scale, a favorable revenue mix and the "free" contribution of higher floating revenue.

key takeaways
In my opinion, Bill.com is rapidly approaching a point of purchase. Keep in mind the deteriorating macro economy that can have a huge impact on Bill.com, but if you're more long-term oriented, I think buying Bill.com at a sub-double-digit forward earnings multiple is a smart buy. . keep the game.