Since our comment on the second quarter results, Sanofi (NASDAQ:SNY, OTCPK:SNYNF) has lost almost 14% of its entire market capitalization equivalent to approximately €13 billion. The reason behind this was related to a product liability litigation called Zantac. When we started covering the French pharmaceutical giant, our summary of the purchase case was based on: 1) a compelling valuation based on the net present value of new drug development, 2) the status of European dividend aristocrats, 3) an excellent portfolio of drugs that are not priced fairly in the market, and 4) continuous improvement of the COGS (this was also supported by Eurapi spin-off). Today we ask ourselves if the previous four points are still valid and what are the implications of Sanofi in the Zantac litigation, also analyzing the third quarter results of the French company.
Zantac litigation
After checking Zantac's product development, there are four companies that have been involved in proprietary rights over time. In 2017, the drug was transferred to Sanofi; however, as early as October 2019, the French company voluntarily withdrew its over-the-counter drug from the US. According to medical research, Zantac can cause cancer, especially in the presence of specific foods.
Speaking of numbers, today there are less than 2,000 claims, but this could increase as the litigation progresses. If we look at past drug deals, we range from $30,000 to $270,000 per person. If the liabilities were split cumulatively over time, GSK would have been the main affected company with almost 80% of the claims, while the other OTC manufacturers would have had to pay the remaining 20%. Given the limited number of claims, Sanofi's last leg on the OTC drug, and its voluntary recall, We do not assume any responsibility in our estimates of Sanofi. Additionally, management appears to be very confident in handling these complicated issues and no major comments were disclosed on the Q3 Q&A call.
third quarter results
Looking at the company numbers and checking Wall Street expectations, we confirm that our thesis on Sanofi is our next value pick. Both top-line sales and EPS outperform and outperform analyst figures by 5% and 9%, respectively. Here in the lab, we were already above average consensus; however, a positive contribution was related to the favorable development of the currency.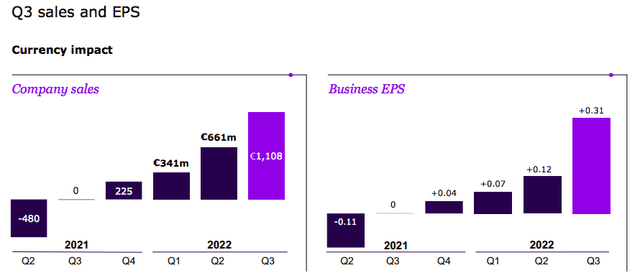 For the Sanofi division, the key drivers of the company's outperformance were Dupixent sales, which benefited from new launches in the US, and the Vaccines segment, which also generated good sales momentum thanks to the development of influenza, as well as traveler vaccines (there is a history of recovery from post-COVID-19 outbreaks). While, Consumer, GeneMed Y Weird illness the results were in broad agreement with the estimates. The company is also keeping its promises to cut costs. In the following plugin, we can clearly see that the company's operating leverage is working. Looking at the details and despite some macroeconomic headwinds, such as higher logistics costs, gross margin improved to 74.6%. Going down in P&L, selling, general and administrative expenses to sales decreased by 50 basis points and reached 21.2%.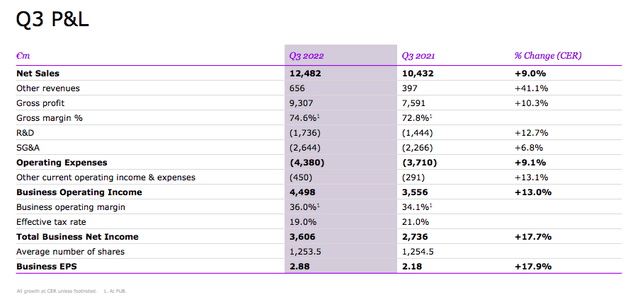 Conclusion and assessment
Quoting the CEO: "Sanofi's strong results for the third quarter demonstrate that the company is on the right track, with a remarkable performance of 20% growth in both Specialty Care and Vaccines, leading us to once again raise our commercial EPS guidance for all year.", so management increases its outlook for 2022 and now targets 16% growth in earnings per share compared to 15% previously. In addition, Sanofi sees positive development in Dupixent sales, lower costs operating costs and additional disposal expected in the fourth quarter for a total gain consideration of almost €600 million The company is currently trading at a P/E of 10x and more than 30% discount compared to its peers (including a theoretical provision of $5 billion for Zantac.) We believe this is totally unjustified and decided to leave our target price of €110 per share unchanged.