investment thesis
TLRY & TCNNF 3Y Stock Price

Post-reopening cadence and likely one foot in this painful recession, speculative stocks like Tilray Brands (NASDAQ:TLRY) and Trulieve Cannabis Corp. (OTCQX:TCNNF) naturally underperformed the broader market. The former had tumbled -52.23% year to date, with the latter reporting -60.09% and the S&P 500 index down -20.62% at the same time. Mr. Market continued to sharply correct high-growth stocks and previously overinflated pandemic stocks to their current near-trough levels. Combined with the Fed's aggressive hikes through 2023, we don't expect things to get better for both companies, given their high long-term debt and poor profitability.
Therefore, it points to the unfortunate growth in its Share-Based Compensation (SBC) and consequently stock dilution ahead. TLRY reported $41.12 million of SBC spending in the last twelve months (LTM), indicating a massive increase of 221.31% sequentially, leading to a 12.61% growth in its share count at the same time. weather. TCNNF fared moderately better with SBC expenses of $18.03 million in the LTM, though its sequential share dilution of 40.72% remains a big deal for long-term investors. Although these are attributed to the latter's aggressive takeovers, things no longer look rosy as the macroeconomy deteriorates and equity funding dries up.
However, there could be a silver lining, given the relatively high September CPI with increased spending in smoking products by 0.2% sequentially and 8.2% year over year, indicating the strong consumption trend of US consumers for now. Assuming discretionary spending remains strong during the recession, we expect TCNNF to remain stable at these levels. In the meantime, we expect Biden's path to federal cannabis legalization to remain rocky over the next two years. Therefore, TLRY investors should also moderate their expectations accordingly.
TLRY and TCNNF continue their cash drain as price wars intensify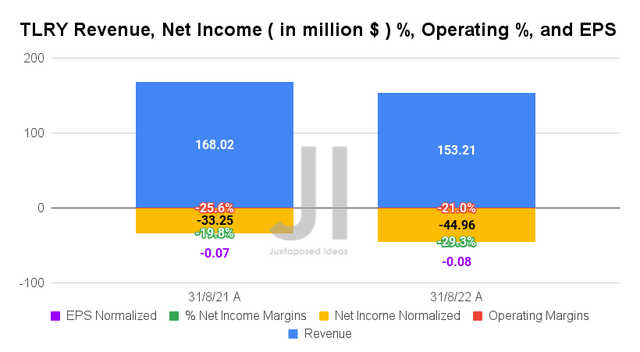 In its latest earnings call, TLRY reported revenue of $153.21 million, indicating a quarter-over-quarter in line, albeit down -8.81% YoY. Meanwhile, there are some improvements in its operating efficiency, with margins of -21% in FQ1'23, compared to FQ4'22 levels of -64.9% and FQ1'22 levels of -25.6%. However, the company continues to report a lack of net income profitability, with -$44.96M and net profit margins of -29.3% in the last quarter. Thus, explaining its EPS FQ1'23 of -$0.08.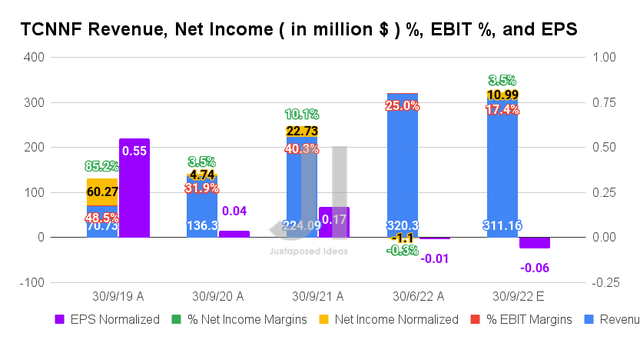 Meanwhile, TCNNF is expected to report revenue of $311.16 million and an EBIT margin of 17.4% at its next FQ3'22 earnings call on November 14, indicating a notable decline of -2.85%. and -7.6 percentage points QoQ, respectively. For the rest, a year-on-year growth of 38.85%, although with a drastic moderation of -22.9 percentage points, respectively. Therefore, impacting its profitability to net profits of $10.99M and net profit margins of 3.5%, indicating a drop of -51.64% YoY.
Although the decline in profitability is partly attributed to TCNNF's SBC and merger expenses, rising costs remain the biggest issue for the company, given its catastrophic drop in gross margins of 75.9% in the year. fiscal 2019 at 58.9% in the LTM. Therefore, it explains its drop in EPS so far.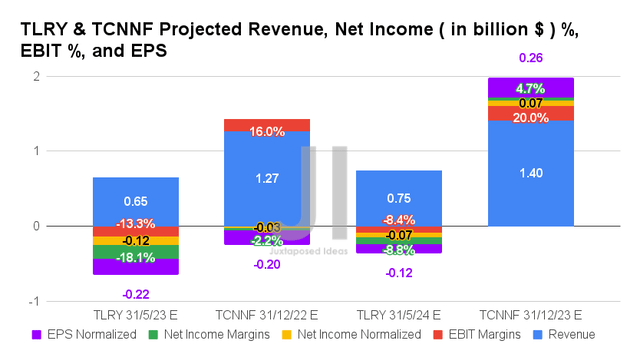 As a result of its poor financial performance thus far, TLRY's future performance has been greatly downgraded by consensus estimates since September 2022, with its top-line growth down 32.98% while remaining profitable for FY2024. That's truly tragic, as TCNNF is expected to report improved revenue growth of 2.94% through FY2023, though another sharp moderation in profitability by -80% from our analysis. above in May 2022.
By now, it is clear that rising inflationary pressures and high operating expenses have decimated its margins, leaving TCNNF in worse shape compared to the height of the pandemic. The latter is expected to report -$0.20 EPS in FY2022 and $0.26 EPS in FY2023, comparatively weaker compared to FY2019 levels of $1.54 and levels for tax year 2021 of $0.84. In fact, it's tragic, as their stocks are unlikely to improve in the meantime, as cannabis margins remain tight, due to the oversupply and intense price wars at the state level.
In the meantime, we encourage you to read our previous article on TLRY and TCNNF, which will help you better understand your market position and opportunities.
Tilray: The Hype Train Crashed
Cannabis Trulieve: time to light it up
Trulieve vs. Tilray: Legalization may not be a game changer after all
So are TLRY and TCNNF shares a buy?sell or hold?
TLRY 2Y EV/Revenue and P/E Valuations

TLRY is currently trading at an EV/NTM Revenue of 3.53x and a P/E NTM of -17.22x, lower than its 2-year EV/Revenue average of 6.22x, though vastly improved over its 2-year P/E of -35.17x. The stock is also trading at $3.53, down -74.69% from its 52-week high of $13.95, although close to its 52-week low of $2.65. Nonetheless, consensus estimates remain somewhat bullish on TLRY's prospects, due to its $5.17 price target and a 46.46% increase from current prices.
TCNNF 3Y EV/Revenue and P/E valuations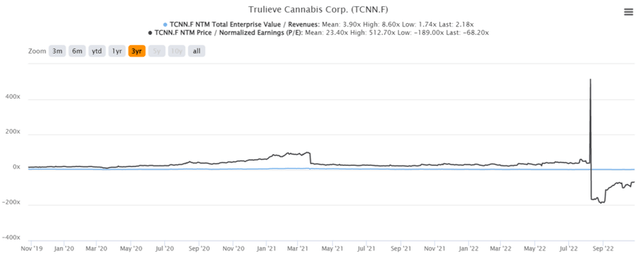 Meanwhile, TCNNF trades at EV/NTM income of 2.18x and NTM P/E of -68.20x, lower than its 3-year average of 3.9x and 23.40x. The stock is also trading at $10.66, down -69.32% from its 52-week high of $34.75, albeit at a 28.58% premium from its 52-week low of $8.29. However, analysts remain bullish on TCNNF's growth story, due to its inflated price target of $35.01 and a 228.42% rise from these lower levels.
Combined with the factors discussed above, we rate both stocks Hold as current lows may not hold if inflation continues to rise. Investors need to prepare for the rough ride ahead. In the meantime, those with a higher risk tolerance and long-term track record may look to add TCNNF into the single digits, given the massive spike in federal legalization speculatively by 2024. However, they should also size their portfolios accordingly in the event of massive volatility. .